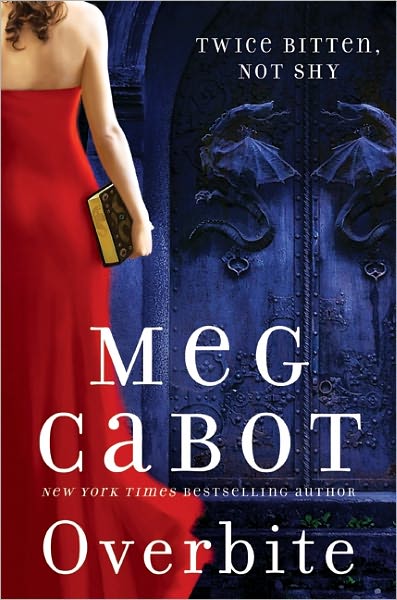 Overbite

Meena Harper has a special gift, but it's only now that anyone's ever appreciated it. The Palatine Guard—a powerful secret demon-hunting unit of the Vatican—has hired her to work at their new branch in Lower Manhattan. With Meena's ability to predict how everyone she meets will die, the Palatine finally has a chance against the undead. Sure, her ex-boyfriend was Lucien Anton­escu, son of Dracula, the prince of darkness. But that was before he (and their relationship) went up in flames. Now Meena's sworn off vampires for good . . . at least until she can prove her theory that just because they've lost their souls doesn't mean demons have lost the ability to love. Meena knows convincing her co-workers—including her partner, Über-demon-hunter Alaric Wulf—that vampires can be redeemed won't be easy . . . especially when a deadly new threat seems to be endangering not just lives of the Palatine, but Meena's friends and family as well. But Meena isn't the Palatine's only hope. Father Henrique—aka Padre Caliente—New York City's youngest, most charming priest, has also been assigned to the case. So why doesn't Meena—or Alaric—trust him? As she begins unraveling the truth, Meena finds her loyalties tested, her true feelings laid bare . . . and temptations she never even imagined existed impossible to resist. This time, Meena may finally have bitten off more than she can chew. show less
Let me just start off by saying, never in my life have I read a Meg Cabot book I
didn't
like.
Oh, good God, this book changes that.
The plot wasn't very well put together, for starters. Hell, I didn't even really know what the plot was until the villain did his typical "tell all" speech. Even then I was sitting there asking myself, "is this really happening?" I mean, sure, it's a vampire book, but I felt like all the rules Cabot established for her vampires in the first book were broken in some form or fashion. Like when Lucien wanted to turn Meena into a vampire. In the first book, you can only become a vampire by letting a vampire drink your blood three times and drinking his in return....
But now, oh, there are other ways too!
Also, this shouldn't bug me, but this book was, like, half the size of the first one, which might explain the crummy plot. It was just all over the place. There was no rhyme or rythem to it.
Like, the romance. There was none, not compared to the first book. I was waiting for Lucien and Meena to make up the whole entire book!
And, I usually don't do spoilers, so click on the little "read more link" and highlight the text if you want to see the one thing that bugged me the most.
SHE KILLED LUCIEN!! HOW COULD SHE?!?! THAT'S NOT THE WAY IT GOES!
Okay, now that I have that off my chest...
This book was just poorly excuted, and I really hope I never have to write another review like this for any of Meg Cabot's books. Ever. In fact, for any book.
So, as heart breaking as it is: