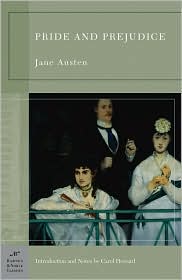 'It is a truth universally acknowledged, that a single man in possession of a good fortune must be in want of a wife.' Thus memorably begins Jane Austen's Pride and Prejudice, one of the world's most popular novels. Pride and Prejudice—Austen's own 'darling child'—tells the story of fiercely independent Elizabeth Bennet, one of five sisters who must marry rich, as she confounds the arrogant, wealthy Mr. Darcy. What ensues is one of the most delightful and engrossingly readable courtships known to literature, written by a precocious Austen when she was just twenty-one years old.
Humorous and profound, and filled with highly entertaining dialogue, this witty comedy of manners dips and turns through drawing-rooms and plots to reach an immensely satisfying finale. In the words of Eudora Welty, Pride and Prejudice is as 'irresistible and as nearly flawless as any fiction could be.'
First Thoughts: Let's get this over with. I have to read this for AP English next year. >.<
Writing: I felt like she overwrote the book, some of the stuff in the book had nothing to do with the plot. Not a good way to start off.
Characters: The characters were well rounded, especially Elizabeth and Darcy, but you'd expect that.
Plot: Eh.... I mean, the plot didn't really pick up until the last couple of chapters, at least for me.
Now, this was a really bad review, but the book just didn't interest me.