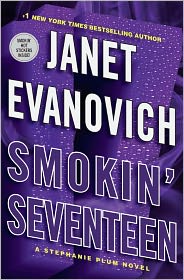 Smokin' Seventeen By Janet Evanovich


Where there's smoke there's fire, and no one knows this better than New Jersey bounty hunter Stephanie Plum.

Dead bodies are showing up in shallow graves on the empty construction lot of Vincent Plum Bail Bonds. No one is sure who the killer is, or why the victims have been offed, but what is clear is that Stephanie's name is on the killer's list.
Short on time to find evidence proving the killer's identity, Stephanie faces further complications when her family and friends decide that it's time for her to choose between her longtime off-again-on-again boyfriend, Trenton cop Joe Morelli, and the bad boy in her life, security expert Ranger. Stephanie's mom is encouraging Stephanie to dump them both and choose a former high school football star who's just returned to town. Stephanie's sidekick, Lula, is encouraging Stephanie to have a red-hot boudoir "bake-off." And Grandma Bella, Morelli's old-world grandmother, is encouraging Stephanie to move to a new state when she puts "the eye" on Stephanie.
With a cold-blooded killer after her, a handful of hot men, and a capture list that includes a dancing bear and a senior citizen vampire, Stephanie's life looks like it's about to go up in smoke.
Pages: 308
First thoughts: I really hope this one is better than the past couple have been.
Writing style: I envy Janet Evanovich's writing style. She can make these crazy scenarios up and pull them off like it happens everyday. Which, it does for Stephanie Plum. She's got great humor, but I feel like the plots have become too unbelievable.
Plot: I feel like the plots are getting too unbelievable. It used to be, Stephanie Plum destroyed cars on a regular basis, and now, when she does it's like
what's new?
She needs to pick a man and go back to the original formula where the whole book, Stephanie was looking for a bond jumper, not a murderer or what not.
In an interview, Evanovich called this the "sex book." She was right. But, she made it funny. That's where her humor got to come in. :D
Characters: JOE FREAKIN MORELLI! That is all I am saying. If Stephanie can't choose between him or Ranger, she can have Ranger and I will take Joe Morelli.
Overall: Despite the bad plots, she always gets me with her humor and Joe Morelli. It's a four.