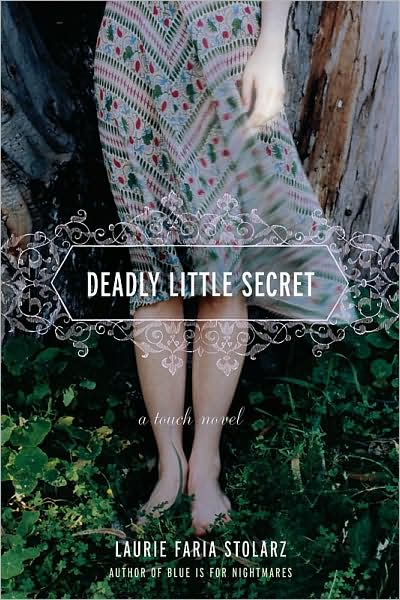 Until three months ago, everything in sixteen-year-old Camelia's life had been fairly ordinary: decent grades, an okay relationship with her parents, and a pretty cool part-time job at the art studio downtown. But when a mysterious boy named Ben starts junior year at her high school, Camelia's life becomes anything but ordinary.

Rumored to be somehow responsible for his ex-girlfriend's accidental death, Ben is immediately ostracized by everyone on campus. Except for Camelia. She's reluctant to believe he's trouble, even when her friends try to convince her otherwise. Instead, she's inexplicably drawn to Ben…and to his touch. But soon, Camelia is receiving eerie phone calls and strange packages with threatening notes. Ben insists she is in danger, and that he can help—but can he be trusted? She knows he's hiding something... but he's not the only one with a secret.

From the best-selling author of Blue is for Nightmares comes a new series that's sure to be a thrilling and chilling teen favorite.
First thoughts: I was really excited to read this, I found it a couple of months ago on goodreads and added it and the sequel to my to-read list. Finally, I got to this book.
Writing: The style was simplistic, nothing too fancy, Present tense, which worked for this book, and it flowed well for simplicity.The story was told in Camelia's POV, but every few chapters, there was this mysterious male POV. I originally thought it was a main character, and I found that really creepy the way he talked, but about 3/4s of the way in the story, it dawned on me that there was no way it could be who I was, and the male who had his own POV really shocked me.
Characters: The main character, Camelia, was okay. She's a sculptor, which Stolarz really worked into the story. But, that was about the coolest thing she ever did. The characters are pretty well rounded, I really liked Kimmie, her best friend. But, at some points, Camelia seemed borderline obsessive with Ben, and it made me a little crazy.
Plot: The plot was pretty good. It was suspenseful. I finished this at 11pm and I refused to go to sleep. It wasn't until the climax that the plot got amazing and it all made sense, but that's how suspense stories work, right?
Final thoughts: While this wasn't quite as great as I expected it to be, it was still a good read, and I'm going to read the two sequels.