Wow. I'm back. I've spent more hours in the car this week than ever before. It was insane. There was so much that happened this week. I've been in three different time zones, and my body never adjusted to not being on Texas time. I stayed in Flagstaff for two days where on the mountain that was the backdrop to the town had snow on one side, and a wild fire burning on the other: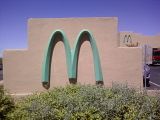 I went to Sadona, Arizona, where I saw the only McDonald's arch in the country that's not yellow. (It's against building code there.)


I saw the beuatiful Grand Canyon. This is my favorite picture that I took. It was so pretty, and I'm really sad that all I have is a crappy camera phone to take pictures with, because if I had a better one, my pictures would be BA. I also went to the Petrified Forest, and the Meteor Crater. I took 466 pictures in four days, and I still had 17,956 pictures left. But by far, this picture had to be my absolute favorite: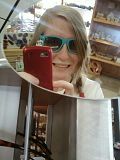 Oh, and I'm going to update the site again soon with some more goodies, including a new excerpt for
The Assassin
and I might add one for
Revenge of the Rossetts
&
Bree's Story.
Don't forget to vote for which book you want me to write next... (I've only got two votes. How sad!)
I hope you all had a wonderful week, I know I did.
Good night my lovlies!